Hosting Your Blog – I Recommend Dreamhost or VPS.net
This is part three of the One Week Blog Challenge series.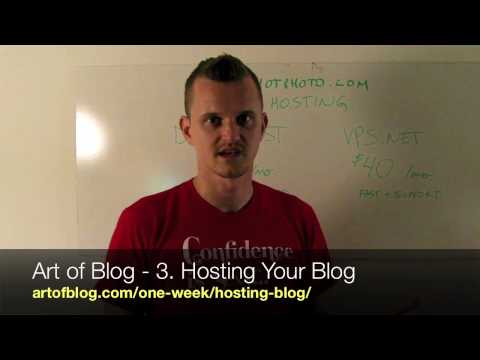 Any host will do, except when you really need it.
There are hundreds if not thousands of places where you can host your website out there. Over the past 8 years we've gone through tons of hosts and some are a lot worse than others.
For most people, shared hosting is the way to go, especially when you're just starting out. It's cheap (about $7/mo.) and it does the job.
For 99% of the people 99% of the time, a shared host for our blog will suffice – we've used Dreamhost over the years and it has served us well (like I said 99% of the time). The other 1%? That involves downtime, when the database server fails, the company moves servers, etc – and those times it can make you want to tear your hair out in frustration, especially if your site goes down during a giant traffic spike. Cheap shared hosting typically only includes email support, so you do get what you pay for.
If you want something a little more serious and a lot better support, I recommend going with "cloud hosting" which is faster and more scalable. VPS.net is a good cloud web host for your blog that fits the bill and is still pretty manageable at $40/mo. A service like that caches your files and images and delivers it to the web surfer efficiently and much faster than any shared host.
Since the intent of hotshotphoto.com is to get a massive traffic spike – I am going to go with VPS.net.  – it's the same people that host Brian Clark's Copyblogger and Pearsonified (go ahead and see how fast their sites load – and you'll see why this is a good choice). They will do all the work for you when it comes to setting up the site and dealing with all the server pains-in-the-ass.
I won't cover the technical details here of setting up the hosting. If you decide to go with Dreamhost, Nick has a great whole series including video that will help you with setting all of that up. If you decide to go with VPS.net, their customer service will take care of it all for you. It's a giant pain in the ass, so I recommend getting them to do it all for you – I decided to do it myself so that's why it's taking me all afternoon to set it all up and get this post out. (Update: I talked to VPS.net into giving out a coupon code just for this series, so if you sign up with them for your own projects, use NIK8E and get 25% off the first month).
Next up – Installing and Configuring WordPress
Start Your Own Blog Today
Building your first blog is easy with far easier when you have a simple step-by-step guide to follow. That is why we've created the world's simplest guide. Learn How to Start a Blog now!
Sign Up Now for
Free

Updates and Exclusive Content:

Learn how to write killer content, get more traffic, make money, and more by entering your email below: