Installing WordPress and Setting Permalinks
This is part four of the One Week Blog Challenge series.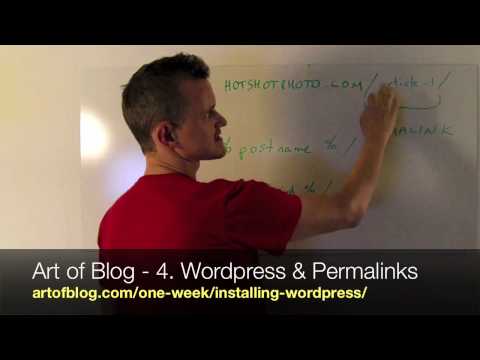 If your website ends with blogger.com or typepad.com you might as well have perforated business cards
Once you have your hosting covered, go ahead and install WordPress – it's the best blogging system out there and every single professional I know uses it. If you are on Dreamhost, Nick does a great job showing you the process of installing it (video #2) via Dreamhost's One-Click Installation Panel. If you are on VPS.net, ask their customer support to do it for you. If you are hosted elsewhere, just follow the instructions on the WordPress site.
Added: Be sure to set your website to have the www version 301 redirect to  non-www. Brevity is important these days (esp with Twitter), so I recommend going with http://hotshotphoto.com/ and not http://www.hotshotphoto.com/. In Dreamhost you can set this when you're setting up the site. For other installs, check out Stuntdubl's guide or use a plugin.
After installing WordPress, login and make the following settings adjustments.
Change Permalink Structure
Permalinks are the URL's or URI's that your website uses in the address bar of the browser when you write new posts to the site (ex: hotshotphto.com/this-is-a-permalink/). There are two permalink structures that I recommend using. Most of the time, I would use the following structure
website.com/article-name/
The advantage of this is that it makes your posts self-explanatory, it adds keywords to the URL which is great for search engines, and looks clean. To enable this structure, go to Settings > Permalinks > select "Custom Structure" and enter /%postname%/ into the field.
Another option that I have been using for some of my websites recently is using just the post number
website.com/123/
The disadvantages with this structure are that you don't have keywords in your URL to help search engines and it's not self-explanatory what the post is about. The advantages are that it keeps your URL's short and clean – so if you have a short domain name and someone tweets your post, your retain the URL rather than having it automatically shortened via bit.ly or tinyurl.com etc. (The other small advantage is that having a number in your URL is a requirement to get into Google News, but that's probably not anything most people have to worry about). To enable this structure, go to Settings > Permalinks > select "Custom Structure" and enter /%post_id%/ into the field.
For hotshotphoto.com I am using the /%postname%/ structure.
Miscellaneous Settings
I recommend changing these settings in the WordPress backend as well:
Under Settings > General
Change your tagline to something that describes your blog
Set the time zone and preferred date format
Under Settings > Writing
Under writing settings – uncheck "Convert emoticons like :-) and :-P to graphics on display"
Under Settings > Discussion
Other comment settings – check "Enable threaded (nested) comments 3 levels deep"
Other comment settings – uncheck "Break comments into pages"
Avatars – Default Gravatar – Enable "Gravatar Logo" (or you can go with MonsterID if you want the cartoons to show up next to people's comments)
Avatars – Change maximum rating to PG
Next up – Make your site look good!
Start Your Own Blog Today
Building your first blog is easy with far easier when you have a simple step-by-step guide to follow. That is why we've created the world's simplest guide. Learn How to Start a Blog now!
Sign Up Now for
Free

Updates and Exclusive Content:

Learn how to write killer content, get more traffic, make money, and more by entering your email below: