Enable Your Fans – Top Community Building and Social Sharing Tools for Your Blog
This is part ten of the One Week Blog Challenge series.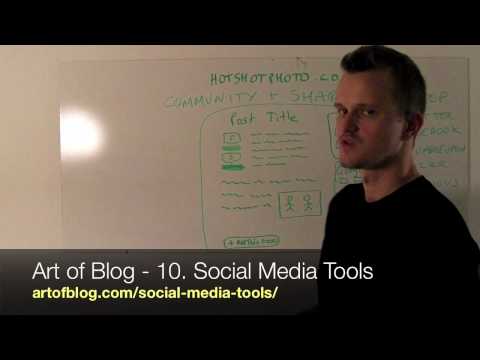 Be a Social Media Enabler – Make it Easy for Your Fans to Share your Awesomeness
One of the most important aspects of blogging is to build your community and make it easy for people to share your content. You want to give your fans the tools to do it easily and intuitively – without cluttering your site with distractions.
There's definitely an art to this – plugins like the "old school" version of sociable add too much visual clutter and cause "banner blindness." When there are too many options, often people will ignore these elements altogether.
Below are some of the best social community and sharing tools for your blog. They all will help you build your community and empower your fans to share what you have to say using the most popular social media sites. I mentioned my favorite social media sites here, but for 2010 I think Twitter, Facebook, and Stumbleupon should be the primary sites that you should focus on leveraging.
1. Meebo Bar or Drag to Share – The newest trend in social sharing that lets your visitors drag any image on a page and drop it into Facebook, Delicious, and Twitter. It's simple, intuitive, and encourages sharing in an effective way. I first saw this on Stuck in Customs and then on Mashable. The idea was first developed by Meebo and they just launched the Meebo Bar (today) so now you too can add this functionality. Alternatively, there are a few self-hosted WordPress plugins for this,  WP Drag 2 Share being my favorite. I might do a more thorough comparison of these later if anyone is interested.
2. FlickrRSS – Enables you to add Flickr photos in the sidebar. You can post your photos, group photos (which I'm doing), or narrow them down by tag. I had to tweak mine to work (solution found on this page). Here are a few brilliant articles on using Flickr to build traffic and getting content and links from Flickr.
3. Twitter Widget – You can add your latest Tweets into your sidebar using Twitter's very own WordPress Sidebar Widget.
3. Tweetmeme Retweet Button – Shows how many tweets the post has had with a convenient retweet button to help people tweet your posts. Under Tweetmeme settings, don't forget to change the Source to your username so retweets come from your @username instead of @tweetmeme.
4. Facebook Share – Add a Facebook share widget to your posts or even add more connectivity with Facebook Connect Plugin.
5. Google Friend Connect – Add Google Friend Connect to your WordPress blog to allow people with Google accounts to join as members.
6. Wibiya Toolbar – This toolbar sits at the bottom of the browser and provides a number of useful tools such as site search, translation, link to Facebook fan page, Twitter, and more. You can customize what elements you want to include on your toolbar.
6. Add This Button – A button that provides sharing capability to lots of social media sites but expands on popup so it's not overly intrusive.
These are some of my favorites. If you have a Thesis theme, Nick just put together a great how to post on how you can integrate unobtrusive yet effective social media icons into a single bar (with buttons for Digg, Twitter, Facebook, and Stumbleupon) into your site like the one you see at the top of this post. If you don't run Thesis, you can check out the compact version of the Digg Digg plugin, which has similar functionality.
Hope you find this post useful. Feel free to share some of your favorites in the comments.
Next up – Ready to Launch!
Sign Up Now for
Free

Updates and Exclusive Content:

Learn how to write killer content, get more traffic, make money, and more by entering your email below: